Reading time 3 min
How is Dutch Design critical?
---
Design is meant to improve our world. So as factors, such as current affairs, society, and politics, come into play and affect our daily lives, designers feel the urge to react. They will express their approval or disapproval through their work. This has long been the case with art - and the great masters, like Rembrandt, have often been known to be critical of their times. This can be very open and obvious, or rather subtle – but still clear. The expressions on some of Rembrandt's self-portraits, for example, have often been interpreted as contempt towards the viewer - possibly symbolising a rejection of society in general. A comment expressed through product design can be just as powerful.
Read below, if you'd like to find out more about how design can be a useful tool in taking the pulse of our society.
Critical design
Designers have been using their work as critique for decades. Expressing an ideology, or commenting on a certain state of affairs has produced well-known pieces, as well as whole movements in the past. Examples include the teachings of Bauhaus and the Italian Radical Design wave of the 1960s, which revolted against the field's commercial constraints. Dutch Design has always been at the forefront of such an approach and this has never been truer than it is today. Dutch designers have a knack for highlighting our share of the responsibility for some of the most important issues of our times – such as our attitude towards our planet, sustainability, and wastage. This, paired with a dynamic, go-getting and pragmatic attitude, makes Dutch Design really stand out within its field for its gutsy nature that likes to hold us all accountable for our actions.
The Dutch in Milan
This level of analysis is a key element in the Dutch pavilion this year at Milan Design Week - the world's largest design festival. The show, entitled Masterly, will be open from the 9th to the 14th of April in Milan's historical Palazzo Francesco Turati, in the city's growing 5vie art and design district. The displays, by over 50 designers, artists, and craftspeople, draw on Rembrandt's work, taking their cues from the Netherlands' 'Rembrandt Year' (2019 marks 350 years from the great master's death). However, this is not just a celebration of the artist's achievements. The displays are also inspired by Rembrandt's sense of rebellion and criticism.
How is Masterly critical?
In their quest to elevate our quality of life, designers are able to capture the zeitgeist and comment on it – helping to leads us towards a fairer, better world. Their aim is to use their influence and product to flag up problems, but also to propose solutions. 'Rembrandt painted in the style of his time and was known as being critical of society', says Masterly curator Nicole Uniquole in a recent interview in Notes Magazine (which you can read here). Following on the artist's footsteps, the professionals in Masterly feel the responsibility that comes with their position and make sure they express their views through their pieces, while suggesting the best way forward.
'Dutch Design also comes from a design philosophy based on current issues facing society', continues Uniquole. 'By designing in an investigative and critical way, modern design can provide the answers to a number of societal issues. Originality and resourcefulness are part of the fabric of the spirit of Dutch Design.' By being unconventional, daring, but also practical, Dutch Designers ensure that the Dutch pavilion is not just a show; it is also a review of our world and the state of affairs today.
---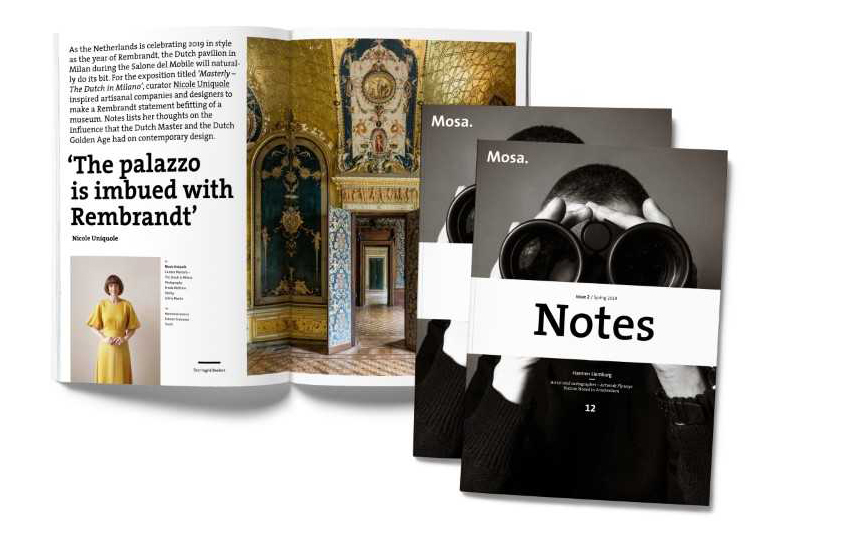 If you would like to read more, then subscribe to the next edition of Notes Magazine. This will feature the full interview with Masterly curator Nicole Uniquole and other articles.