Reading time 3 min
What can Dutch heritage teach us about modern design?
---
Every masterpiece, be it by the most established professionals or the newest, freshest minds, draws in one way or another on what already exists in one's field - and the cultural sphere beyond. Our global heritage is a constant source of inspiration in most designers' creative process. After all, continuously tweaking, transforming and redefining what we often take for granted can be the best route to true innovation. In this article, we explore how Dutch history and culture can influence contemporary design today.
2019 is 'Rembrandt Year'
When it comes to the Dutch, a long legacy in arts and crafts provides a real treasure trove for designers. This influence helps designers break the boundaries of their profession and eventually lead the way towards the future - and lead they do, as this country is particularly famous for its groundbreaking design output. Celebrating this rich culture and tradition, the Netherlands has named 2019 'Rembrandt Year', marking 350 years from the great master's death. But while the revered artist lived some four centuries ago, his lasting legacy continues to empower and inspire generations of Dutch talent. The new guard looks back at the lessons learned by Rembrandt and his school to find solutions to modern problems. This highlights the evergreen nature of truly timeless work.

Dutch Design inspired by Rembrandt
The Dutch take on a similar approach with the country's official presence in Milan during the world's leading design festival, Salone del Mobile. The Dutch Pavilion that opens this April is aligned with the 2019 celebrations around the landmark Rembrandt van Rijn anniversary. It features a carefully selected constellation of the country's craft, design, and art professionals, who touch upon themes inspired by the iconic painter's oeuvre. The pavilion allows space for designers to explore and create connections between the artist's style and accomplishments and the modern world. This way, it becomes the perfect vehicle to explore how Rembrandt's work continually influences us across the centuries, leading up to today's gifted generation of Dutch creatives.

Masterly at the Dutch Pavilion
Taking the visitor on a journey through space and time, the pavilion's exhibitors span a variety of disciplines. They include from furniture maker Robbrecht Collection and renowned designer Richard Hutten, to photographer Frieda Mellema and ceramic surfaces specialist Mosa. There are over 50 exhibitors and each is showing their own take on the matter. They all sit within a carefully curated exhibition, entitled Masterly, at Milan's historical Palazzo Francesco Turati in the city's growing 5vie art and design district.


Rembrandt's continued relevance
The show, open from the 9th to the 14th of April, enables the modern Dutch to take over the palazzo's typical Milanese setting and draw parallels between past and present. The use of light, for example, is a recurring theme. 'Rembrandt was a master of using light and shadows. The way he captures light in his paintings is magnificent and produces an exceptional level of liveliness in his pieces', says Masterly curator Nicole Uniquole in a recent interview in Notes Magazine. 'I inspired all the exhibitors to make their own Rembrandt statements. The Dutch companies, top designers, and design agencies instantly recognized the added value of an image presentation, starring our best painter ever, in a museum. The palazzo is imbued with Rembrandt.' What better way to explore how old and new converge, than by bringing together contemporary innovation and creativity, and the gravitas of a true classic?
---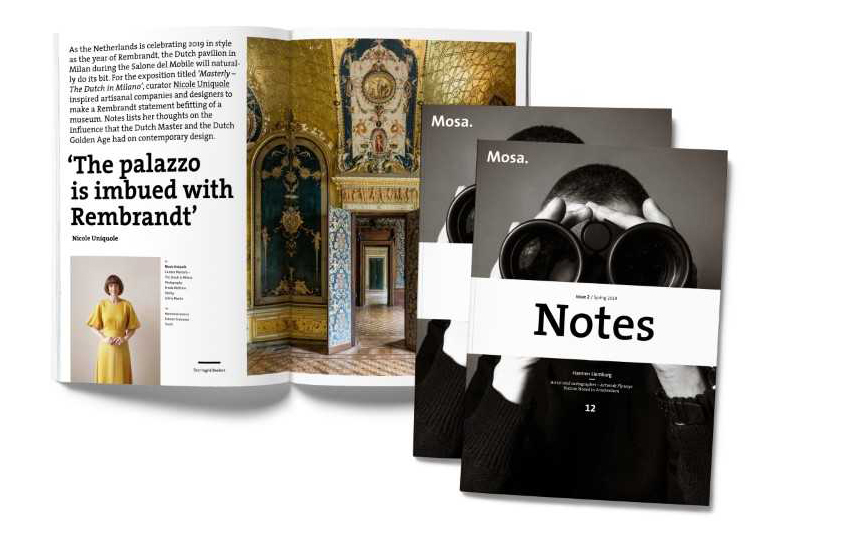 ---
If you would like to read more, then subscribe to the next edition of Notes Magazine. This will feature the full interview with Masterly curator Nicole Uniquole and other articles.