Reading time 3 min
Who wins in the design battle between old and new?
---
Tensions and restrictions in a project can be a designer's best friend. By harvesting the power of limitations and juxtapositions, and by being pushed to invent new relationships, designers can make a space or product truly shine. The contrasts in such an approach are sure to make a statement that announces its presence loudly and clearly. The point where old and new meet is an established challenge that designers and architects often have to negotiate when working with a historical space, It is this mix of past, present, and future that can bring the most inspiring and unexpected results, pushing the boundaries of what we take for granted. Challenging uniformity in all its expressions is often what design is all about.
In this article we will look at how this becomes the case in the Dutch pavilion's show in Milan this spring.
The Dutch pavilion exhibition
Celebrating 350 years from Rembrandt's death, the Dutch are marking their presence in this year's Milan Design Week, with Masterly. The show, set in the Dutch pavilion, will be open from the 9th to the 14th of April, and is aligned to the country's 'Rembrandt Year', bringing together old and new. Hosting displays by over 50 contemporary agencies and professionals in the arts, crafts, and design fields, this carefully curated exhibition draws on the great master painter's work and legacy – albeit with a modern twist. Adding an extra layer to this rich theme is the pavilion's location: the historical Palazzo Francesco Turati in the city's growing 5vie art and design district.
Old versus new
'Which elements are centre stage and steal the show?' wonders Masterly curator Nicole Uniquole in a recent interview in Notes Magazine (which you can read here). 'Could it be the beautifully inlaid wooden floors, the marble doors, ornaments with gold lustre, or wall coverings made of velvet or silk? Or will the attention focus on new Dutch Design?' In this case, most likely, it will be the combination of the two. The synergy produced by the two elements seen together guarantees a unique atmosphere. This will not only offer an aesthetically pleasing composition, but also it will provide fertile ground for debate on what design is. Rembrandt's work is seen through the lens of contemporary Dutch Design; and contemporary Dutch Design is experienced in the historical architecture of a Milanese palazzo. The juxtaposition of old and new takes many forms in this exciting show.
Italian architecture and Dutch Design|
The palazzo's intricate craftwork showcases an incredible attention to detail and a high level of quality. At the same time, the Dutch products and installations within also command attention through their surprising compositions and contemporary character. With both sides sharing an equally dynamic approach, the relationship between old and new here becomes less of a competition and more of an alliance. Masterly was conceived to harness the strength provided by this incredible joining of powers and transform it into a captivating demonstration. The exhibition provides the visitor with the very best global design has to offer: a balanced mix of contemporary energy and historical wealth.
---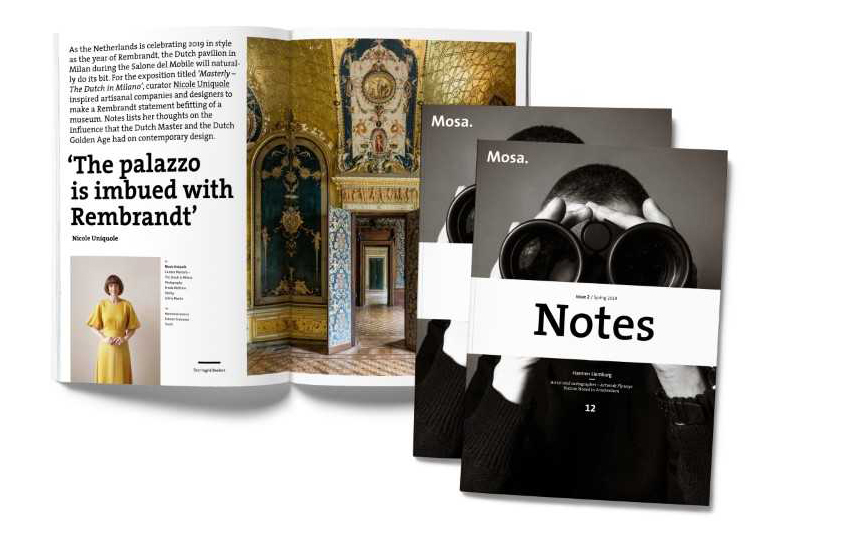 If you would like to read more, then subscribe to the next edition of Notes Magazine. This will feature the full interview with Masterly curator Nicole Uniquole and other articles.