Reading time 3 min
Benefits of BIM in construction — for architects and contractors
---
Building Information Modelling (BIM) is a process for all stakeholders in the construction industry. Depending on the role of the individual stakeholder, BIM offers different benefits. What are these benefits? How does BIM support contributors in a building process, like architects and contractors? This article provides more insight into the topic.
The integration of BIM into the construction process
BIM means creating a digital building model in which all relevant processes are integrated. A BIM-model is the central database for everyone involved in building, maintaining, and even possibly tearing down the building at the end of its lifecycle.

At any stage, the stakeholders have all relevant data at hand. If the BIM process is fully integrated, this data is always up-to-date, consistent, and complete. It is available to everyone at any time or any place, in the office as well as on-site.

BIM benefits for architects and contractors
Generally speaking, BIM enables the architect to focus on their creative task. Rather than drawing a building in 2D or 3D as with CAD, BIM means creating a building model by placing intelligent objects that contain all relevant information in a 3D modelling environment. Before work is carried out on-site, the virtual designs are now built in 3D. This results in several benefits:

· For the architect, it is much easier to help their clients and their contractors to understand a design project from start to finish. Changes can be easily integrated and are immediately visible in the model – with all relevant impacts the changes might have. Spatial "Clashes" that might occur can now be identified and resolved in the model instead of on site.

· The architect saves a lot of time he would have previously spent on coordination processes, checking for practical feasibility, and error correction.

· Architects and contractors alike have all relevant data at their disposal. This means that from writing the first offer, to finalizing the building and maintaining it, they save time and effort. In this way, BIM contributes to making their work more economical versus spending less time on corrections.

Manufacturers: Supporting architects in getting the best of out of BIM
Manufacturers can gain a new role by using BIM: they can directly support architects and contractors by supplying a new level of product information. What is this new level? Rather than supplying an online product catalogue, BIM provides a full picture about a product and its use – including visualizations of how the result will look in the end. Product information in BIM starts with the raw materials used to manufacture a product, continues with everything you need to know about using it together with other products, and ends with the question of how to dismantle the product once it has reached the end of its lifetime. Additional manufacturer services include the integration into different standard software solutions. Apps or software like Mosa`s Pattern Generator enable architects and contractors to fully visualize the effect of the respective product in actual use.

Fully integrating BIM within the building process means improving the building quality, significantly reducing the building lifecycle costs, and optimizing the operational efficiency.

If you want to use BIM in your part of the building process and make full use of all the advantages that BIM can offer – including the services Mosa provides as a manufacturer – you will find more information in the BIM Whitepaper.
---
---
---
---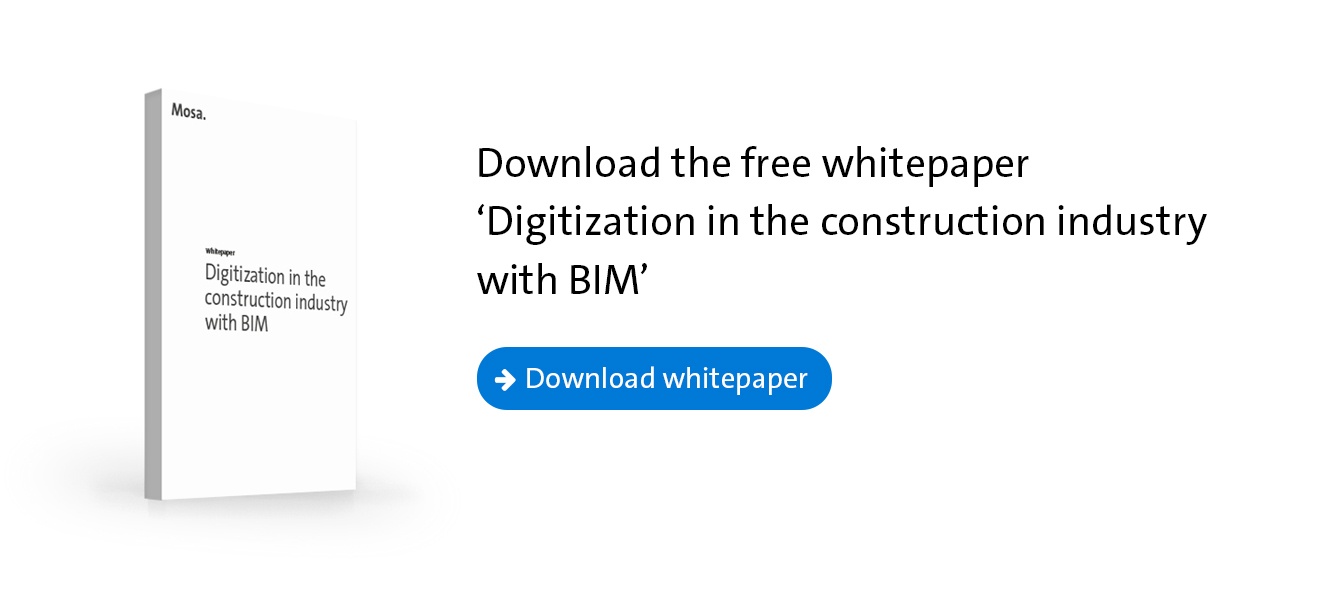 ---