Reading time 4 min
Built Positive: the future of sustainable building and architectural design
---
Sustainable construction is no longer nice to have. The rapidly growing global population, resulting in an estimated 3 billion new middle-class consumers by 2030 [1], inflates manufacturing volumes to the point that they put an undesirable burden on the environment — an issue that we need to address urgently. To tackle the problem today rather than tomorrow, the Cradle to Cradle Products Innovation Institute (C2CPII) has initiated the Built Positive Movement. In this article, we explain what Built Positive is, how it relates to sustainable building, and why it's crucial for architects.
What is Built Positive?
As stated, Built Positive is an initiative from the Cradle to Cradle Products Innovation Institute (C2CPII). According to C2CPII itself, Built Positive is "an initiative to enhance the value and quality of materials and products used in the built environment and in the circular economy." (learn more about the definition and philosophy of Cradle to Cradle here.)

Built Positive consists of 6 key pillars:
1. Circular design
2. Material health
3. Design for Disassembly & Recovery
4. Value Chain Collaboration & Integration
5. Qualifying and Quantifying Value
6. Policies and Standards

One can consult the Built Positive page for further details on its 6 key concepts, but just by looking at the above overview, its goal is clear: launching a new industrial revolution that ensures production and manufacturing with a positive impact on society, the economy, and our planet.
"Because being less bad isn't enough anymore", as C2CPII Built Environment Team member Thijs Maartens so effectively puts in this excellent Built Positive presentation.

So how does the Built Positive movement affect architects? What can be gained?

Why is Built Positive crucial for architects?
Apart from securing a livable future for generations to come and increasing overall environmental awareness, Built Positive provides significant benefits for architects.

The added value of Built Positive lies in taking architectural practice to the next level. By selecting certified green building materials through thoughtful, environmentally aware design strategies, architects can design future-proof buildings that generate business value.

The positive effects of Built Positive can expect to be found in the regions of:
• Financing;
• Increased flexibility of space;
• Accelerated deconstruction processes (design for disassembly);
• The reduction of real estate development risk;
• The retention of material and building value.
We already described the interest of investors in green construction here.
Built Positive's importance for architects also lies in the implementation of circular economy packages at a continental scale. The EU, for instance, has developed a Circular Economy Package that consists of a concrete and ambitious program with transformative measures that cover the entire construction cycle: from production and consumption to waste management; from the market for secondary raw materials to a revised legislative proposal on waste.

With large-scale movements like the EU's Circular Economy Package, committing to do-good movements like Built Positive are no longer a matter of if, but a matter of when. So how does one get started?

How to join the Built Positive movement
First and foremost, education on the initiative and its core concepts are key. In-depth resources and in-person events are widely available. Our advice: explore the wealth of information on the Built Positive page to get started; it points to webinars, workshops, and other knowledge-providing content.

Of course, simply reading about Built Positive differs from actually committing to its philosophy (and to that of sustainable design in general). At Mosa, we're quite familiar with a common objection that comes with considering such a commitment.

"The choice in green building materials is limited"
Luckily, more and more green building products become available as the demand from architects and designers increases due to the large-scale initiatives described earlier on. Explore the Cradle to Cradle Certified Products Registry to find certified building materials, for instance.

Or take a look at the DGNB navigator; an efficient tool for the selection of materials that contribute to green building, like Cradle to Cradle certified products. The tool is created by one of the most authoritative green building certification systems, the DGNB, which attributes green building labels to buildings that meet green building certification requirements.

For those that like to learn more about the significance of green building labels like the DGNB we recommend our new whitepaper on the topic. Download a free copy of the whitepaper here.

References
[1] MORE WITH LESS: Scaling Sustainable Consumption and Resource Efficiency, 2012
---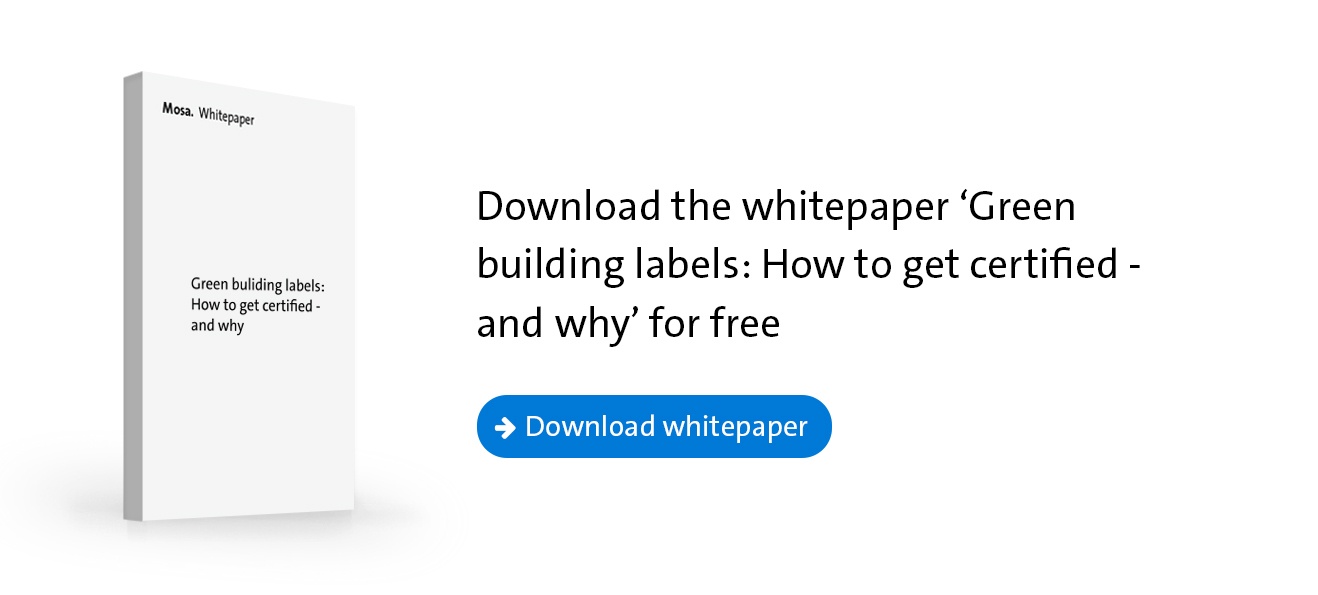 ---