Reading time 3 min
CAD vs. BIM: what's the difference (and overlap) between them?
---
Nowadays, CAD and BIM are often used interchangeably and alongside each other, depending on the phase of the building process and the need of the users at that moment. Therefore, it is important to distinguish CAD and BIM by their definitions, overlap, and differences. This article does just that.
What is CAD?
CAD is the acronym for 'Computer Aided Design,' which is the process of drawing a building design in 2D and 3D with specific CAD software. Examples of such software solutions are SketchUp or AutoCAD.

CAD is used for design ideas, visualizations, construction drawings, and simulations. Designers and architects alike use CAD to present their ideas to their clients, as it helps the clients to better understand what the architect is looking for and what the final object will look like, creating a lifelike impression.

CAD is also useful when it comes to integrating changes in the design, adding a time-saving aspect. Rather than drawing by hand, the architect or designer can do the changes directly in the software.

What is BIM?
BIM stands for 'Building Information Modelling.' BIM is the process involving the generation and management of digital representations of the physical and functional characteristics of a building. A building is designed by placing intelligent objects into a 3D environment.

Strictly speaking, BIM is not a process, but a chain of processes for managing the information about products during a construction project. This means: if users want to get the best out of BIM in a building project, all information should be contained in files with a common format.

A BIM model is a shared knowledge resource for information about a building. This includes all relevant information for every stage of the building process. In a BIM model, you can, for example, find information about the raw materials that are used, the specifications of these raw materials, and any aspects that need to be considered when using the raw materials.

In that way, the BIM model forms the central database of a building. All relevant information for every phase of the building process is captured here — from the first design of the building phase up to its maintenance.

This shows that BIM has a major impact on the way the stakeholders in the building process will work together. Implementing BIM will completely change the behavior of the people involved and the dynamics in the construction supply chain. It will unlock new and more efficient, collaborative ways of working.

CAD and BIM: Two stages of development
CAD and BIM belong together: they are basically two stages in the development of the digital building process. Without CAD, BIM would never have been possible.
In contrast to CAD, BIM consists of four key elements:

1. BIM uses 3D models to capture, explore, and maintain consistent and coordinated planning, design, construction, and operational data.
2. BIM provides greater insight into a project when it comes to cost and budget, schedule and constructability.
3. BIM enables everyone involved in a project to use and share the same, consistent, up-to-date data either at the desk in the office, at the client's location, or at the building site.
4. BIM enables prompt responses to any changes within the process. It creates a workflow that is much smarter, faster, and with a lower risk of mistakes occurring.

Using a BIM model for a building means creating an efficient, cooperative way of working for everyone involved in every stage of the building's life.

If you want to learn more about BIM, please read our Whitepaper. It describes in great detail the advantages of BIM for you as architect or designer in your individual part of the building process. It explains how cooperation profits from BIM, and gives you more insight into the development of BIM and the context. It also informs about how Mosa as a manufacturer uses BIM to improve its services.


---
---
---
---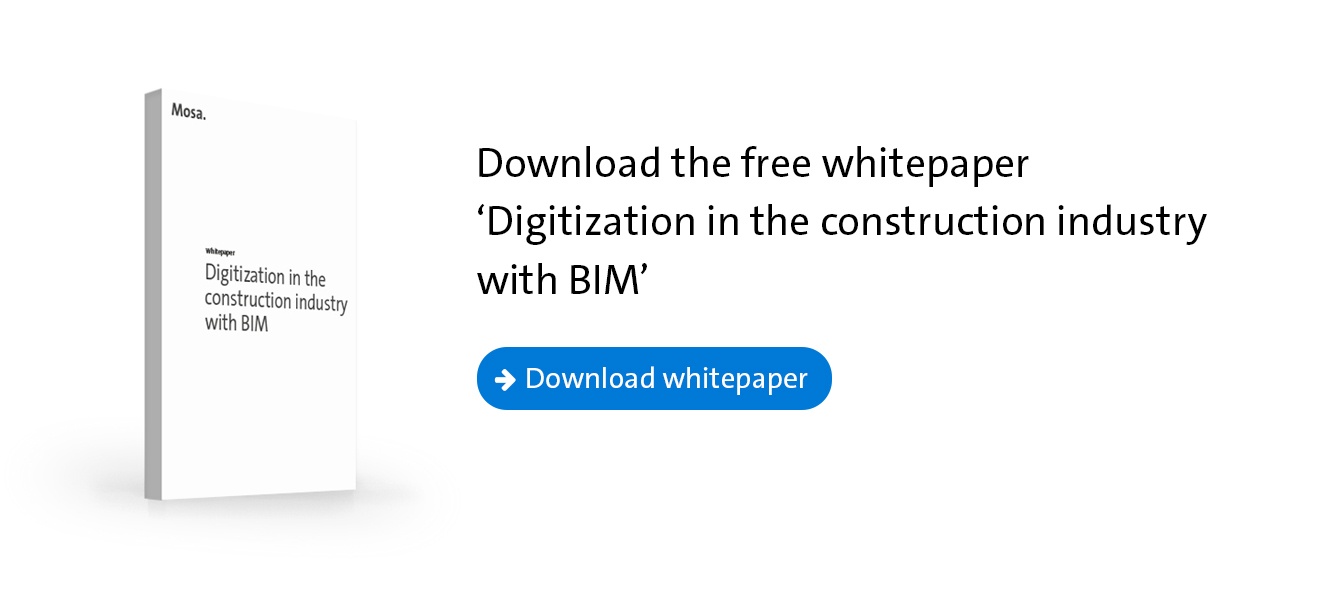 ---