Reading time 3 min
Dutch Design versus Made in Italy: What can we learn from each other in Milano
---
Modern design fairs are an international stage. They are a chance to see and be seen, where professionals can show off their work, challenge themselves and, why not, spy a little on friendly competition. The earliest examples of such gatherings date back to Paris' trade exhibitions in the 1700s, or the World Expo tradition, the very first of which took place in London during the Victorian times. Since then, the concept of showcasing achievements and trying out new things in order to "wow" a global audience proved to have a powerful pull. This resulted in a huge success for the genre, which flourished in the years to come; and by the 20th century, professional gatherings had expanded into many forms to suit specific industries. In this article, we explore Dutch Design and what it represents during Milan Design Week.
Milan is the world's great design stage
The Salone del Mobile fair and Milan Design Week, which take place together annually in the spring, are the world's leading design events. There is a strong focus on industrial design that spans from product, to furniture and spatial installation and interiors. And for about a week each year, the northern Italian city transforms into a global platform for beauty and innovation. What better opportunity to explore new concepts from all over the world? This melting pot of ideas is guaranteed to leave you thrilled and motivated.
Dutch heritage through a new lens
Every country seeks to showcase its achievements and unique characteristics during Milan Design Week. This year, the Dutch are commemorating 350 years from one of their great masters' death with 'Rembrandt Year'. The Dutch pavilion is dedicated to designers, artists and craftspeople whose installations pay homage to the iconic painter's work. The show, entitled Masterly, will be open from the 9th to the 14th of April in Milan's historical Palazzo Francesco Turati, in the city's growing 5vie art and design district. There, the team will present modern, homegrown marvels, while paying tribute to their rich cultural heritage.
What is Dutch Design?
In the Dutch pavilion, the visitor can experience the famous brand of Dutch Design at its very best, at the same time, seeing it within the setting of a grand palazzo. The juxtapositions created by experiencing these works against a masterpiece of Italian tradition, and the numerous Italian (amongst others) designs on display across the city lend themselves to opening the debate of what Dutch Design really is.
Comparisons may be inevitable; they are also very welcome. Dutch Design is renowned for its pragmatic and experimental nature that seeks the right balance of practicality and minimalism through quirky, often unexpected routes. Meanwhile the Italian style is often defined by pure sophistication and an attention to craft and heritage. Both approaches draw, in their own way, on their country's history and wider culture. 'Both Dutch Design and Made in Italy are renowned the world over. Both labels create expectations and offer guarantees', said Masterly curator Nicole Uniquole in a recent interview in Notes Magazine, which you can read here. 'In my view, Dutch Design is very focused on solving problems.'
Learning from each other
What unites these different strands of contemporary design, however, is far more powerful than what may divide them. Great design is conceived to answer questions, cultivate our aesthetic and ultimately, drastically improve our daily life. Different approaches are not only welcome, but also necessary. Learning from each other and drawing on each other's cultural offerings is what this type of event is all about. Uniquole concludes: 'Designers want to change the world for the better through designs that are well thought out. Without focusing on the differences, Milan is the place where these two styles meet.'
---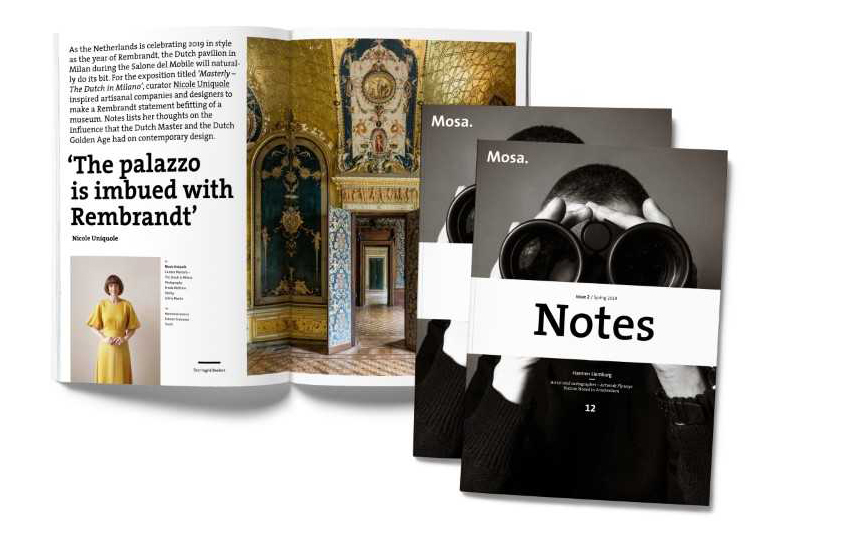 If you would like to read more, then subscribe to the next edition of Notes Magazine. This will feature the full interview with Masterly curator Nicole Uniquole and other articles.