Reading time 3 min
Rembrandt versus Dutch Design
---
What can designers learn from Rembrandt?
Genius is often found in the most unexpected places; and it can make history. There is, for example, the true tale of the son of a small-town miller in rural Holland, who became one of the most revered painters of all times. So goes the story of Rembrandt Harmenszoon van Rijn, who was born in Leiden in 1606 and while coming from humble beginnings, went off to transform Dutch painting forever. The well-known and respected artist has defined Dutch culture – as well as his own time, which is widely hailed as the Dutch Golden Age in art. Creating a home-grown counterpoint to the mainstream European Baroque styles of his time, he led a revolution in his field. He has touched the work of professionals, way beyond his discipline.
In this article, you will read more about the great master's continued relevance and unexpected influence in contemporary design.
What makes Rembrandt special?
The well-known and respected painter has defined Dutch art. His work consists of painting, etching, printmaking, and drawing. During his prolific life, it is believed he produced over 600 paintings and some 2,000 drawings. Meanwhile, his signature use of light and shadow was truly ahead of its time. His skilled brushstrokes are said to have the power to open a virtual window to the soul of his subjects. While his mastery of his craft is without a doubt, what also makes Rembrandt special is the fact that he went against the grain. At the time, artists were expected to tour the world and be inspired by their global travels; Rembrandt never did and drew from his own world and culture instead. The fact that he did things his own way, as well as his highly developed specialist skills and innovative product, make Rembrandt truly ground breaking.
The Rembrandt legacy
Today, of course, Dutch culture has evolved with the times. Yet it still shares a strong connection to the master painter's lasting legacy and philosophy. Just like Rembrandt worked on his own terms, contemporary Dutch culture often takes its cues from its own legacy and history, carving its own path in the field. This is particularly true for the design world where the Dutch approach is renowned for its individual and unexpected style; yet at the same time Dutch Design can be hard to pin down, due to its inventive and flexible nature. Acknowledging their unique DNA, in 2019, the Dutch are commemorating 350 years from one of their greatest artists' death with 'Rembrandt Year'.
Rembrandt in Milan
It is no surprise then that this appreciation to heritage, and in particular to Rembrandt, was also the theme adopted by the Dutch Pavilion this year at Milan Design Week - the world's largest design festival. The pavilion's show, entitled Masterly, will be open from the 9th to the 14th of April in Milan's historical Palazzo Francesco Turati, in the city's growing 5vie art and design district. Here, over 50 designers, artists, and craftspeople have created showcases that pay homage to the iconic painter's work, drawing upon his themes.
'The most prominent recurring theme in the designs are the 'Rembrandt colors' and his remarkable mastery of using light and darkness', said Masterly curator Nicole Uniquole in a recent interview in Notes Magazine, which you can read here. 'I assigned a single Rembrandt piece to some designers to use as their starting point.' With Rembrandt leading the way to innovation, Masterly is a veritable celebration of contemporary design with a rich, historical twist; all executed in the unique way of the Dutch.
---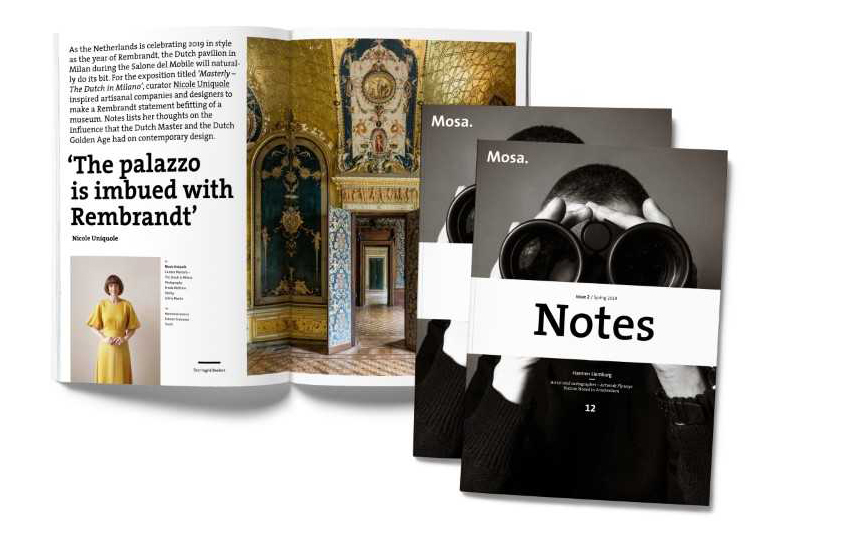 If you would like to read more, then subscribe to the next edition of Notes Magazine. This will feature the full interview with Masterly curator Nicole Uniquole and other articles.